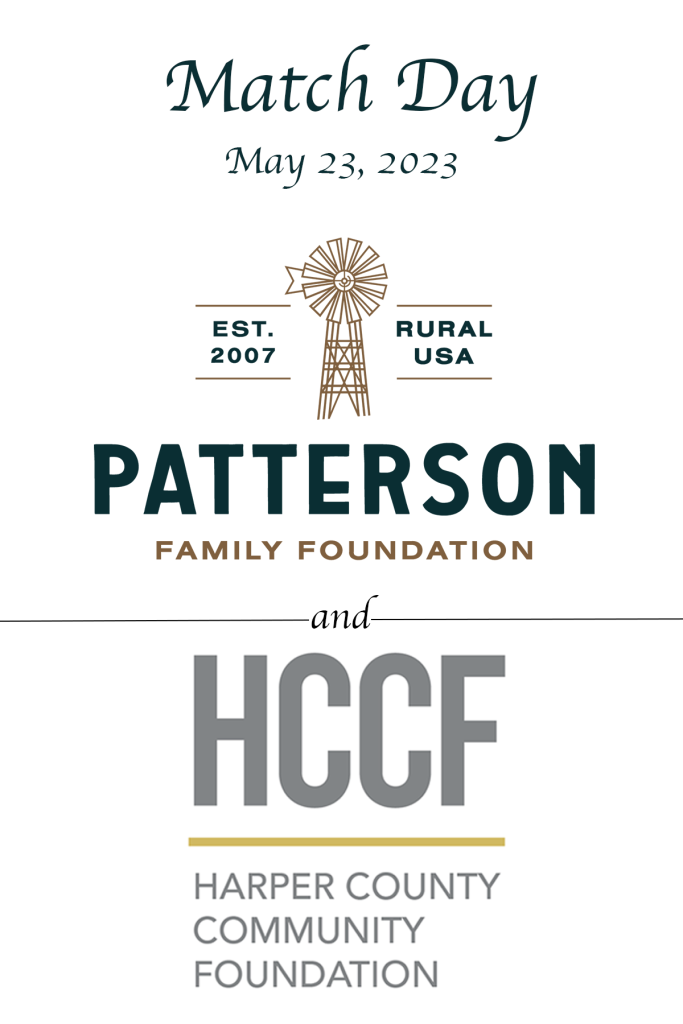 Harper County Community Foundation Announces Its 1st Match Day Event with $70,000 Matching Gift Challenge from the Patterson Family Foundation
The Harper County Community Foundation (HCCF) is thrilled to invite you to our very first Match Day Event on Tuesday, May 23rd at 7 PM, held at the Attica Memorial Building. We are excited to announce that the Patterson Family Foundation has graciously offered to match every dollar we raise, up to $70,000.
In an effort to make the most of everyone's time and treasure, we have combined our annual meeting and grant round party with this fundraising opportunity. Attendees will enjoy a delicious dinner from the Krazyhorse, and have a chance to win door prizes, meet scholarship winners, and make a meaningful impact in the Harper County community.
For those who cannot attend the event, HCCF welcomes donations by mail or online through our website. All contributions received on May 23rd will be matched by the Patterson Family Foundation at the completion of the event. The PFF's grant is designed to empower local leadership in addressing community needs, and match funds may be distributed at the discretion of the HCCF leadership.
HCCF is governed by a dedicated board of 12 members, all of whom are committed to making a difference in Harper County. We believe that the success of our community is a collective effort, and with your support, we can continue to invest in the people and organizations that make our county thrive.
Join us at the Match Day Event to make your contribution count twice, and help us achieve our fundraising goal. If you have any questions, please contact Kevin Alexander, the Executive Director of HCCF, at PO Box 5, Anthony, KS 67003, or at the contact information found on our website.
Thank you for your support, and we hope to see you at the event!